JJC Announces The End Of His Six-Year Marriage To Funke Akindele.
2 min read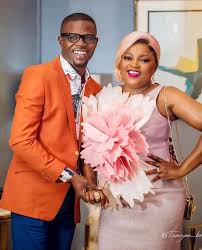 Rapper JJC Skillz, also known as Abdulrasheed Bello, has announced his divorce from actress Funke Akindele.
On Thursday morning, JJC made the announcement that his marriage to Akindele has been having problems for the past two years via his official Instagram account.
He said that Akindekle forced him to leave their house three months ago, and that since the Africa Magic Viewer's Choice Awards on May 14, he hasn't been able to sit down with her.
"Dear Friends and Family, I must inform you that Funke and I have split up, the author wrote. We shared a lot of things while it lasted and had two gorgeous children as a result.
"For us, the past two years have been quite challenging. Even though I know I did my utmost to make things right, I think they are now past saving. I moved out of the house a few months ago at Funke's request, and outside of AMVCA, I haven't been able to persuade Funke to have a civil conversation about the future of our relationship.
Akindele and JJC welcomed a pair of twins that were born in the US in December 2018. The rapper's ex-wife, Mello, who is the mother of his first son Benito, kept the kids out of the public eye and just revealed their identities before she posted images of the twins on social media.
JJC stated that he decided to announce the split so that the world would be aware that they now lived separate lives even though they had yet to negotiate the custody of the kids and the next stage in their relationship.
"I'm announcing this so that everyone knows that we're both living separate lives. The custody of our children, which is of utmost importance, and the necessity to separate economic interests are among the issues that still need to be resolved, but I am confident that they will be resolved one way or another, he continued.
JJC was in the news earlier this year after Mello accused him of physically abusing their son Benito and provided evidence in the form of court records.