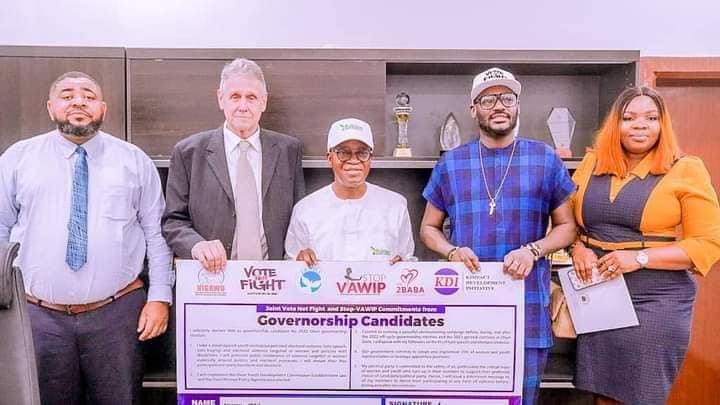 Innocent Idibia, better known by his stage name 2baba, is a multi-award-winning Nigerian singer. He has met with the candidates from the three main political parties running for governor of Osun on July 16 and urged them to persuade their supporters to abstain from violence.
Idibia met with Dr. Akin Ogunbiyi of the Accord Party, Governor Adegboyega Oyetola of the All Progressives Congress, and Senator Ademola Adeleke of the Peoples Democratic Party at various times, and forced them to sign a peace pact, expressing commitment to a peaceful election.
The singer-songwriter, who traveled to the state with his "Vote Not Fight" campaign team, urged Adeleke during a meeting they had in Ede on Wednesday to spread messages that would dissuade people from engaging in electoral violence and violence against women during the governorship race.
He went on to say that the 2Face Idibia Foundation, Justice, Development and Peace Maker Center, and The New Generation for Girls and Women Development Initiative were working together to implement the campaign, with assistance from the National Democratic Institute and the US Agency for International Development.
He continued "We are hopeful that as a man of peace, you will make a promise to run a peaceful campaign and encourage your supporters to remain peaceful before, during, and after the Osun governorship election,".
"We call on you to amplify the VNF and Stop-VAWIP campaigns by frequently denouncing youth-incited/perpetrated violence, hate speech, vote buying, and electoral violence targeted at women," the petition reads.
In response, Adeleke vowed her commitment to a nonviolent election and urged supporters of the other parties taking part in the election to do the same.
Adegboyega Oyetola, the governor of Osun State, said in a statement posted on his Facebook page that he met with representatives of the VNF campaign in South-West Nigeria.
The statement continued, in part, "Governor Oyetola signed a peace covenant and reaffirmed his commitment to a free, fair, and peaceful election at the conclusion of the meeting. The governor reiterated his usual message that politicians must adhere to the rules of the game and that elections shouldn't be viewed as life-or-death situations.