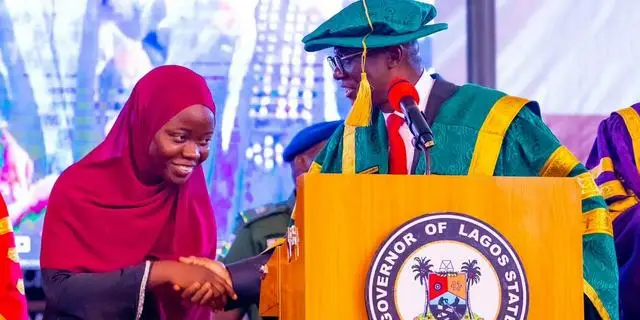 The best-graduating student for the 2021/2022 set in Lagos State University (LASU), Aminat Yusuf, says she settled for garri and groundnuts for a larger part of her undergraduate days.
Yusuf said the right mentoring by lecturers, hard work, and God's guidance were major factors for her success.
Yusuf, an Edo indigene, finished with a Cumulative Grade Point Average (CGPA) of 5.00 (First Class Honours).
She said the factors helped her to be the best-graduating student of her set and in LASU's 40 years of existence.
Yusuf said the financial situation of her parents, coupled with the fact that she is the first child put a lot of burden on her. "I called for financial support only under compelling circumstances, after I have exhausted all options.
"As a result, I experienced some serious financial constraints during my two plus four years stay at LASU.
"In 200 Level, second semester, just because I needed to get a browsing phone and get trained in computer skills, I saved up about 90 per cent of my feeding allowance.
"For the most part of my days as an undergraduate, I lived in the university premises, because I had no hostel, and going home every day would have been absolutely inconvenient
"The school had a stand-by security and standard lighting system, so, it was safe for me; my major challenge was having to attend lectures every day in a neatly ironed white and black dress, acting like everything was perfect," Yusuf told NAN on Wednesday.
Speaking on her first day in LASU for the physical screening, towards admission into a diploma in law programme, the best-graduating student said: "I remember fantasising about achieving a remarkable feat in this prestigious university.
"I first did Diploma in Law programme, which runs for two years, in which students are taught compulsory law courses, with a view to offering direct entry admission to top class students.
"I studied really hard and prayed so fervently towards achieving excellence; I graduated from the programme with a CGPA of 4.98 and this was the best in my set.
"The possibility of graduating with such a grade motivated the yearning to graduate with a perfect CGPA at the undergraduate level."
She called on well-meaning Nigerians to invest in the education sector and lauded the passing into law of the Student Loan Act in the country.
She added: "I believe this will no doubt be of immeasurable value to our education system.
"While I struggled financially through my education, I don't desire such hardship for students coming behind us, especially the female students."
Yusuf, however, appreciated the LASU management for sustaining the congenial and conducive environment that contributed to her excellent performance.
She said: "I am deeply grateful to my parents for their sacrifice, unwavering support towards my education.
"My parents really motivated me from their different careers; my father is a journalist while my mother is a businesswoman.
"Thanks to my faculty lecturers for their reflex of excellence, commitment and dedication in teaching us to be the best.
"I will like to use this opportunity to launch a YouTube channel tagged, 'Learning Law with Aminat', with a goal of giving back to society through my immediate community."