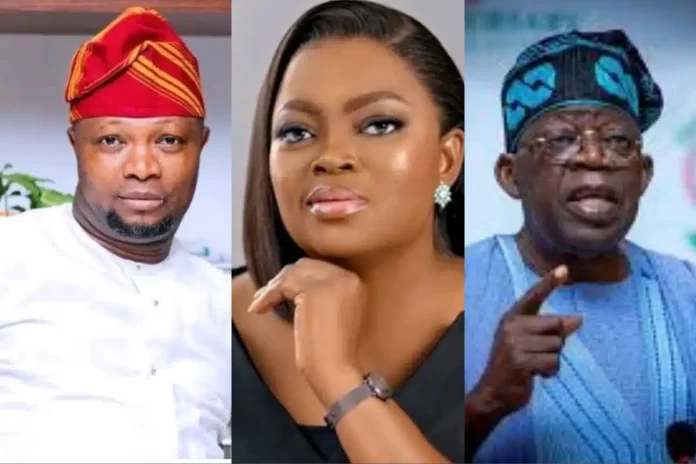 The People's Democratic Party (PDP) governorship candidate for Lagos State, Abdul-Azeez better known as Jandor has thrown subtly shade at Bola Ahmed Tinubu, the presidential candidate for the All Progressives Congress APC.
This comes after Tinubu issued a warning to his supporters not to mention the name of Jandor's running mate, Funke Akindele.
The drama began on Wednesday, 2nd November when Tinubu fumed at his supporters at a political outing for daring to mention the name of Funke Akindele.
Society watch reported that Tinubu's supporters had sung a campaign song where they described Funke Akindele as a political 'ant' compared to incumbent Governor, Babajide Sanwo-Olu.
The supporters sang: "Who is Funke Akindele before Sanwo-Olu of Lagos? She is an ant".
However, Tinubu fumed saying: "Don't even bother to mention her name in my presence. It is an insult. It is disrespectful."
Jandor took to his Twitter account to respond to Tinubu's reaction at the mention of his running mate, Funke Akindele.
According to Jandor, Tinubu is terrified of Funke Akindel because she is a formidable force. He said no parent wouldn't be proud of Funke Akindele who has achieved success in life through hard work and proper parental training.
Jandor also noted that those who trained their children through public funds will not be proud of someone like Funke Akindele.
He wrote: "Over the last few months, through radio and television interviews and communications via the Lagos4Lagos channels, I have graciously responded to questions about my decision to invite Funke Akindele to run with me as deputy governor of Lagos state.
"There's no parent who wouldn't be proud of Funke Akindele who rose to her current enviable status, through her hard work and parental trainings, except for those who trained theirs with public funds.
"I would be terrified too, if I was an opposition to such a formidable woman. But unlike them, we intend to win honourably, by convincing the people about sincerity and urgency of our mission. I would advise those who whisper about her credibility to do the same".