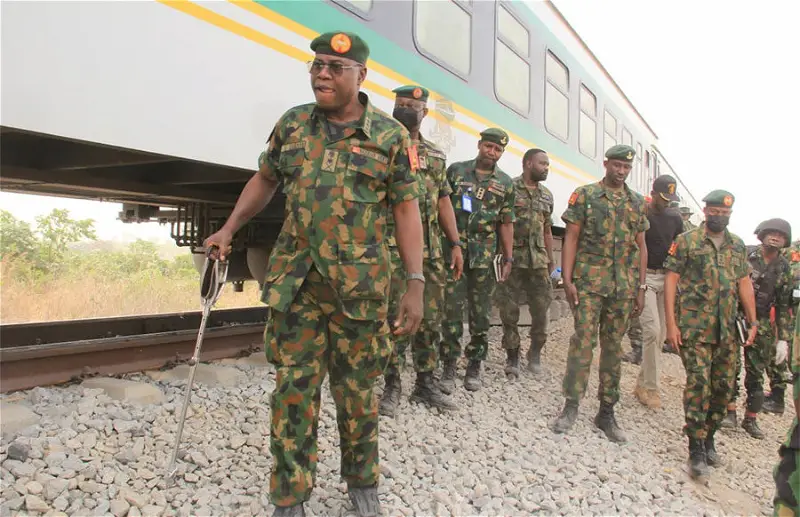 The Chief of Army Staff (COAS), Lt Gen Faruk Yahaya has declared absolute loyalty of the Nigerian Army to the country's new president, Asiwaju Bola Ahmed Tinubu, in line with the constitution of the Federal Republic of Nigeria.
Gen. Yahaya also assured Tinubu that "the Nigerian Army will at all times maintain professionalism in the discharge of its duties to ensure that the Commander-in-Chief achieves his vision of building a safe and secure Nigeria for economic and other social activities to thrive."
The COAS made the declaration in Katsina on Tuesday shortly after commissioning some projects at Government Day Secondary School (GDSS), Malumfashi under the Special Intervention Civil Military Cooperation (CIMIC) Project.
The facilities donated to the school comprises of two blocks of four classrooms, two staff rooms with convenience and a renovated assembly hall. Also donated to the school were 100 classroom chairs and 2000 copies of exercise books.
Addressing the audience at the project commissioning and handover ceremony, Gen Yahaya urged the school management and students of the School to properly utilize and maintain the facilities commissioned in order to enhance the quality of education in the school.
According to General Yahaya, the Special Intervention Civil Military Cooperation (CIMIC) Project is an arm of the corporate social responsibility of the Nigerian Army initiated under his watch to provide support to communities of serving Nigerian Army senior officers who through dedication to duty and service to the nation have risen to the enviable rank of Major General.
"Such cooperation has over time significantly contributed to the Nigerian Army's efforts at containing the multifaceted security challenges facing the nation particularly through the non-kinetic approach," the COAS said.
He however noted that the CIMIC project at GDSS Malumfashi was executed by Major General Sani Gambo Mohammed, the Chief of Training (Army), who is an illustrious son of the Malumfashi Community.
Speaking earlier, the project executor, Major General Sani Mohammed said the execution of the project is in line with the vision and resolve of the COAS to contribute to the development of communities where the Nigerian Army personnel are deployed.
Mohammed while appreciating the COAS for approving funds and supporting him to execute the project in honour of his community, said the facilities provided to GDSS Malumfashi will go a long way in improving the standard of education in the community.