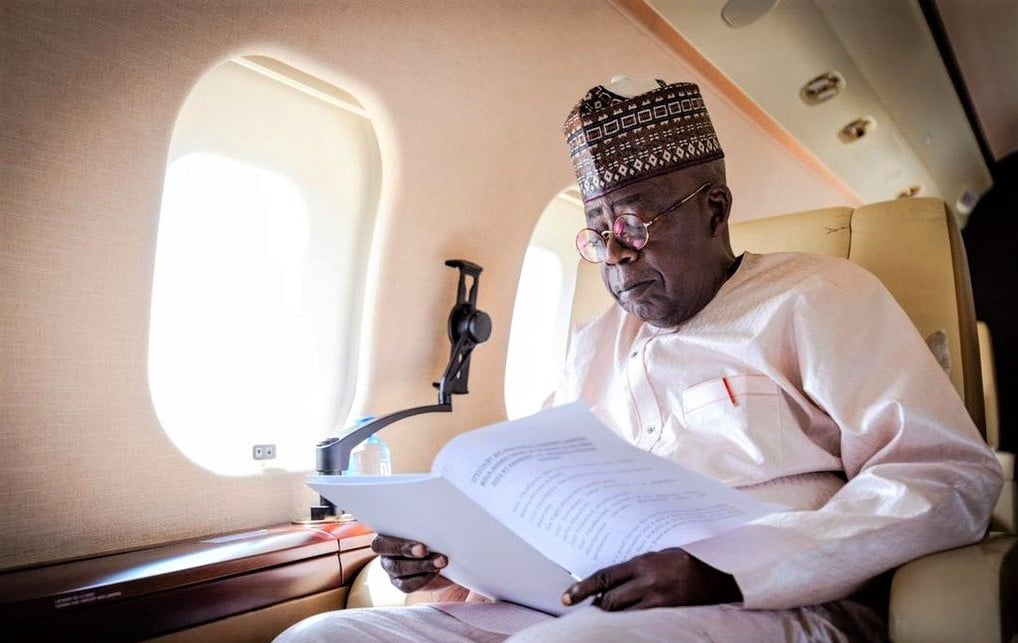 Ahead of the May 29 inauguration, questions on the whereabouts of the President-elect, Bola Tinubu have taken the centre stage.
It has become a norm in Nigeria for people of the upper echelon of government to keep their health status secret even when this becomes a major concern for the country.
The dark clouds over the exact nature of the illness being suffered by the leaders always led to rumours and speculations from concerned Nigerians and members of the opposition.
This will also leave their aides, their political parties and party chieftains with the gargantuan task of managing the huge public relations crisis that would greet their absence.
Nigeria has been in this situation, not once, but twice, or even thrice.
For instance, the severity of the illness of former President, Umaru Musa Yar'Adua, was shrouded in secrecy even when he was airlifted out of Nigeria for medical treatment in November 2009.
Yar'Adua had always suffered some kind of sickness since May 29, 2007 when he became president. But the illness was kept out of the knowledge of Nigerians, until it was later speculated he had kidney problems and an ailment related to a heart condition.
This secrecy was one of the reasons he never formally transferred the presidential powers to his then vice-president, Goodluck Jonathan, a situation that sparked a constitutional crisis in the country.
A report that he collapsed after suffering a possible heart attack before being flown abroad was debunked and it was later reported that the former governor died of congestive heart failure, a chronic condition in which the heart doesn't pump blood as well as it should.
Recall that on the 20th November 2010, Yar'Adua complained of chest pains and on 23rd November he boarded a plane to Saudi Arabia.
According to the then Presidency, the President had walked onto the plane himself but only a few persons: his wife, a few military personnel and flight crew, could ascertain this.
In a circumstance like this, the President is bound by the constitution (Section 145) to inform the Vice-President and the National Assembly in writing, about his movement, but he did not.
The President spent four-and-a-half months in Saudi Arabia with most Nigerians no longer believing stories being put out by his cronies as many thought he had died months ago.
Nigerians were told that Yar'Adua had returned to the country in the dead of the night of 24th February, 2011, two weeks after Jonathan was installed as Acting President. No one was to see the President, and no one saw him, not even Jonathan.
Turai Yar'adua, wife of the President and their minders, held Nigeria to ransom. They kept the President's secret in sickness and in death.
In a similar case study but different ending, is the case of President Muhammadu Buhari. The Nigerian leader had on February 5, 2016, eight months after being sworn in, took his first medical trip to London, the United Kingdom. This time he spent six days between February 5 and 10. Buhari's second medical trip would follow four months later on June 6, 2016. He spent 10 days treating an ear infection after which he rested for three extra days before returning on June 19, 2016.
On January 19, 2017, this time the President wrote to the Senate on taking a 10-day vacation back to London. Though the vacation was expected to start on January 23, 2017, he left Nigeria the same day and failed to return until 51 days after.
Just two months after he came back, on May 8, 2017, Buhari left Nigeria again to UK for medical attention and remained there till August 19, 2017, spending 104 days.
On September 21, 2017, he made a detour from the U.S. to the UK on medical grounds. He was there for four days.
Again, President Buhari returned to the UK for medical reasons on May 8, 2018, where he spent another four days. The stay was longer in March 2021. He was there for 15 days, having "routine medical check-up."
In July 2021, he was in London again, this time he spent 14 days and on March 6, 2022, the President left again for London for a two-week medical trip, which lasted 12 days and so on. Buhari spent a total of about 237 days on medical trips to London.
Tax-payers' money, in the tone of an estimated N1.1 to 5.4 billion was spent on landing, fuel, and parking charges on President Buhari's medical trip and till date, no Nigerian can confidently say the very illness their president has been treating. They can only speculate.
Fast forward to 2023, Bola Ahmed Tinubu, the 71-year-old presidential candidate of the All Progressives Congress, APC, has been declared president-elect by the Independent National Electoral Commission, INEC, after the presidential election.
But one of the prevailing issues, even before the presidential election, was about his health. But the former Lagos helmsman has constantly denied being ill.
Although speculative, the president-elect has been undergoing treatment for a yet to be revealed ailment in Paris, France since after the March 18 governorship and State Assembly election.
Tinubu was said to have been jetted out to Europe to seek medical care after falling ill after the March 18 election.
Rumours have it that Tinubu fell ill after the "hectic" electioneering that led to his emergence and the tension that surrounded the governorship election in Lagos State.
However, the president-elect and his camp have maintained that the former Lagos State Governor had travelled to Paris, and London to rest and plan the transition programme.
According to a statement by his spokesperson, Tunde Rahman, "Tinubu would also observe the lesser hajj in Saudi Arabia.
"After a very exhaustive campaign and election season, President-elect, Asíwájú Bola Tinubu, has travelled abroad to rest and plan his transition programme ahead of May 29, 2023 inauguration.
"The President-elect decided to take a break after the hectic campaign and election season to rest in Paris and London, preparatory to going to Saudi Arabia for Umrah (Lesser Hajj) and the Ramadan Fasting that begins Thursday.