Davido Steps Out For The First Time Since Ifeanyi Adeleke's Death With Red And Swollen Eyes
2 min read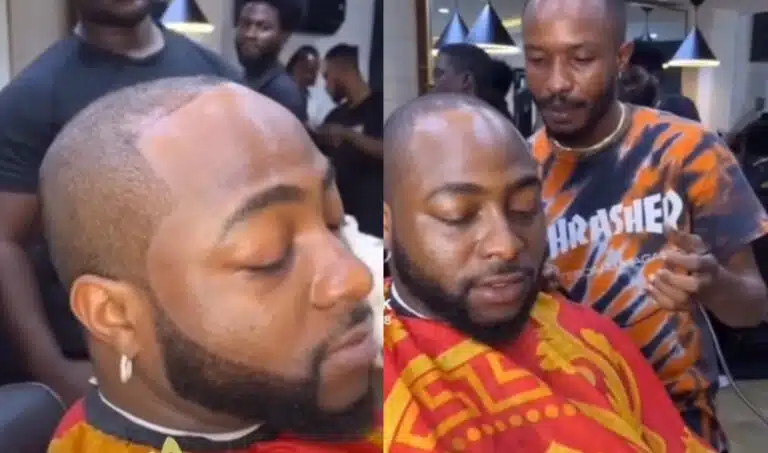 Popular Nigerian singer, David Adeleke better known as Davido has stepped out for the first time since the passing of his beloved son, Ifeanyi Adeleke.
The If crooner was spotted at a Barber's Shop where he went to have a clean shave; the first since the shocking death of little Ifeanyi.
Looking all teary and worn out, Davido who tried to cover his pains still had a red and swollen eyes.
The video circulating online shows the singer waving and smiling at the videographer, yet still covered in deep pains.
It would recalled that the Lagos state police command is continued to detain two out of the eight domestic staff of singer Davido who were invited for questioning over the demise of his three-year-old son, Ifeanyi Adeleke.
The toddler unfortunately drowned in his father's Banana Island apartment on Monday, October 31, subsequently on Tuesday eight of the domestic staff were invited for questioning.
The spokesperson of the Lagos state police command, SP Benjamin Hundeyin, said following serious interrogation, six of the domestic staff have been released while the chef and the nanny have been detained.
It was earlier revealed that the Nanny was with late Ifeanyi and the Chef came to join them before the ugly incident occurred.
The Nanny was said to have moved slightly away to receive a call. When she returned, she couldn't find Ifeanyi and assumed he was with the Chef but the Chef said he had left Ifeanyi with her.
They began to frantically look for Ifeanyi all over the house for close to 20 mins until a security guard spotted him in the pool.
No one could explain how the boy got in the pool. Davido and Chioma were said to have returned from their trip at Ibadan, Oyo State to the devastating news.