Adetutu Balogun Pleads The Blood Of Jesus After "Ooni Of Ife" Followed Her On Instgaram
2 min read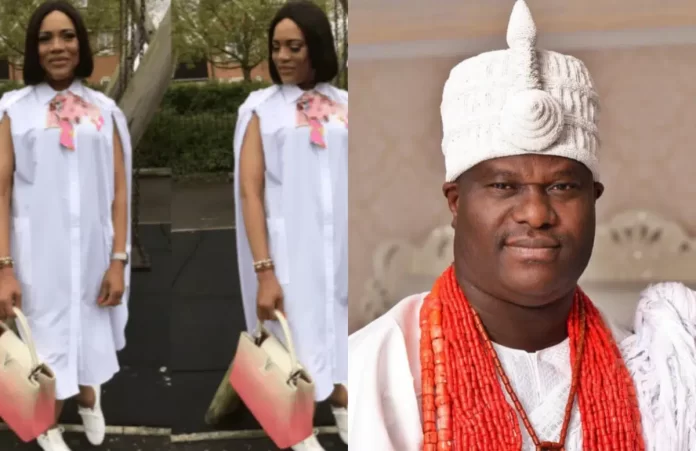 Popular US-based socialite and social media commentator, Adetutu Balogun, also known as "tutsy" has taken to popular micro blogging platform, Twitter to plead the blood of Jesus over the Ooni of Ife.
This comes after an account on Instagram with the handle "ooni_of_ife" followed her on the platform.
The said account which is obviously a parody account of the Yoruba monarch liked a couple of her photos before following her.
Adetutu Balogun took a screenshot of the activity and took to Twitter to cry out.
"When Ooni follow you and liked you pictures on IG… Moi: LOL. l cover my TL with blood of Jesus!" She wrote.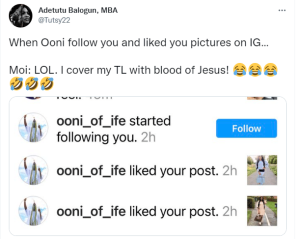 Adetutu's sarcastic post about the "Oni of Ife" liking her photos and following her on the social media platform points to the fact that he married 6 women in two months.
"Horny of Ife" Nigerians mock Ooni of Ife for marrying 6 women in 2 months
Society watch recently reported that the Yoruba monarch took a sixth wife, Princess Temitope Adesegun.
The monarch had picked an Ijebu princess, as his sixth wife and queen. Photos and videos from the lavish event have made it way to the internet.
Like his previous weddings, the Ooni is nowhere in sights, but members from the palace have stormed the venue to represent the King.
Nigerian social media users to different social media platforms to mock and rename the Yoruba monarch, tagging him a "horny" man.
One dozzydonwa wrote, "Ooni of Ife is now "Horny of Ife" what Nigerians cannot do doesn't actually exist"
One Chrissy wrote, "What is "Horny of Ife" Aswear Twitter na wild place because how did they coin that out…. The Ooni of Ife has every right to marry even as many as 1000 women as he wishes"
Another user wrote, "Ooni of Ife shld just change his name to "Horny of Ife", make we sabi say na wetin he go do for Royal house be that"
One SirDavidBent wrote, "This "Horny of Ife" stuff is highly disrespectful though. Inasmuch as we catch cruise, make jest and find humour in many things as Nigerians, it is important that we should never forget our cultural values. The Ooni of Ife is a revered monarch. This should not change."
One 7thgodd wrote, "Wait, Horny of Ife will be collecting threesome frontambak every night now. Modern king Solomon in the making"