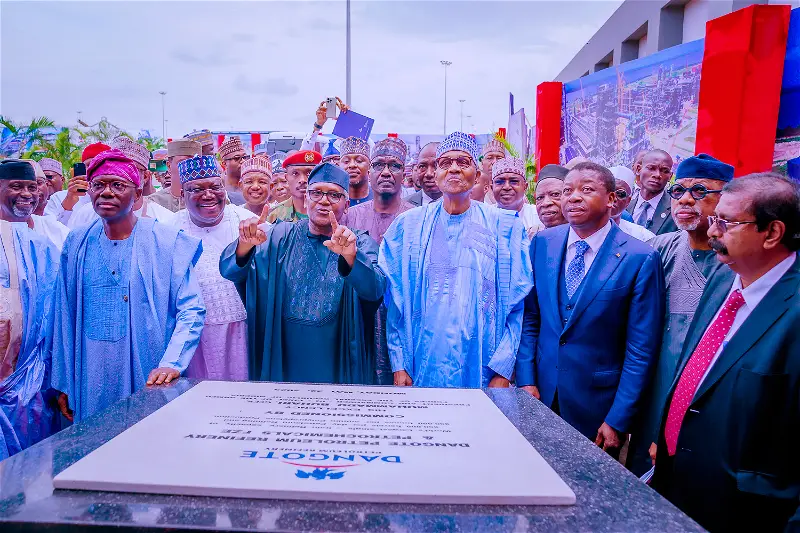 Amid encomiums from eminent personalities, including President Muhammadu Buhari and presidents of five other African countries, founder and President of Dangote Group, Alhaji Aliko Dangote, yesterday expressed optimism that the newly commissioned 650,000pbd refinery would employ over 100,000 Nigerian youths and generate over $21 billion in revenue.
According to him, this will save the country huge forex that would have been spent on fuel importation.
He also disclosed that the first products from the refinery would hit the market towards the end of July this year, adding that the refinery currently has over 33,000 employees.
Speaking at the inauguration of the Refinery by President Buhari at Ibeju-Lekki, Lagos, Dangote said its products "will be in the market before the end of July.''
He said: "Beyond today's ceremony, our first goal is to ramp up production of the various products to ensure that within this year, we're able to fully satisfy our nation's demand for higher quality products."
According to him, the accomplishment is to enable Nigeria to eliminate what he described as the tragedy of import dependency and stop "once and for all" toxic, sub-standard petroleum products from being dumped in Nigeria's market.
"Beyond this, we intend to ensure that our plants are run at the highest capacity of utilisation and the highest efficiency to enable us to export competitively to other markets, especially in the Economic Community of West African States, ECOWAS and wider regions in which 53 countries of 55 are dependent on imports to meet their petroleum products' demand," he added.
The billionaire businessman said the project was the realisation of a "clear opportunity" for Nigeria, citing the African Union's commitment to the creation of an African common market through the African Continental Free Trade Area, AfCFTA.
The facility is expected to produce Premium Motor Spirit (petrol), diesel (Automotive Gas Oil), aviation jet fuel and Dual-Purpose Kerosene (DPK), among other refined products.