First Bank Plc In 3bn Mess, Customers Sues For War
3 min read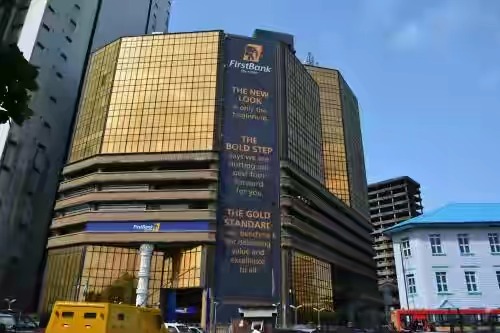 Subsequent upon its resounding legal victory over First Bank (Nig.) Ltd both at the Lagos State High Court and the Federal High Court, in two cases filed by the bank against the Copyright Society of Nigeria (COSON), the Collecting Society has dragged the financial institution to the Federal High Court, Lagos demanding damages to the tune of three billion Naira from First Bank for the illegal and unlawful restrictions on the accounts of COSON without any court order whatsoever.
COSON also asked the court for a declaration that the restrictions placed its bank accounts of by First Bank without any court order whatsoever is illegal, unlawful, null and void.
The nation's topmost Collective Management Organization for copyright in music and sound recordings is also requesting an order of perpetual injunction restraining First Bank, its agents, privies or servants from further placing any restrictions on the accounts of COSON without a valid court order.
The suit No. FHC/L/CS/2118/19 with a 41 paragraph statement of claim supported by 22 documents and three witness statements was filed by renowned COSON lawyer, Mr. James Ononiwu of the Lagos law firm of the Whitedove Solicitors, the same lawyer who floored First Bank in each of the two earlier cases brought by the bank against COSON.
In its Statement of Claim, COSON averred that as a result of the continued freezing of the Plaintiff's accounts by the Defendant without any court order whatsoever, royalties due to the members and affiliates of the Plaintiff have been significantly unpaid causing tremendous consternation and instability within the Plaintiff's domain.
COSON also averred that it verily believes that if the Court does not intervene to put a stop to the "atrocious behavior" of First Bank which is freely trading with the funds belonging to the Plaintiff while the Plaintiff suffers, the action of the Defendant would lead to the collapse of the Plaintiff and bring untold hardship to the many people who depend on the Plaintiff for their sustenance.
Before the action was filed, the untiring Chairman of COSON and one time President of PMAN, Chief Tony Okoroji, addressed some members of COSON at COSON House in Ikeja, saying, "there will be nowhere to hide for all the people who conspired to bring down COSON, the greatest organization ever built by the Nigerian creative industry for the good of creative people in Nigeria. For several months, they threw everything at COSON. We begged and begged and because they thought they had the upper hand, they mocked us and turned deaf ears on our pleas. Because we are musicians, they underrated us. The God of music has turned everything around. Now, we are after each and every one of them. They can run but they cannot hide. The hunters have become the haunted. None of them will escape without paying a huge price for the evil they have tried to do to Nigerian musicians. I am 100% dedicated to this cause. I assure all of you members of COSON that you will laugh last. We are resolute."