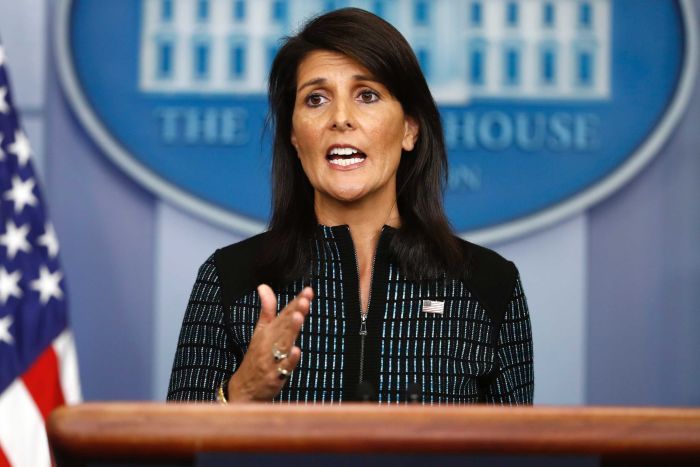 Nikki Haley has become the latest high-profile resignation from the Donald Trump White House.
At a press conference in the Oval Office, Ms Haley said she would be leaving her role as US ambassador to the UN by the end of the year. The departure has left plenty of people scratching their heads.
Ms Haley is one of the administration's most popular figures, among Republicans and Democrats, and Mr Trump praised her as a "fantastic person" who has "done an incredible job".
So why is she stepping down now weeks before crucial midterm elections? Axios's Jonathan Swan broke the story of her resignation, and here's what he knows about her reason for quitting:
"I still don't know what happened really. I mean, I reported she resigned , she told trump that last week. I still don't know the real backstory nor does anyone really that I've spoken to in the White House or outside the White House…" – @jonathanvswan w/ @NicolleDWallace pic.twitter.com/nirLVGjBt8

— Deadline White House (@DeadlineWH) October 9, 2018
Ms Haley said the past eight years, six of which were spent as South Carolina's governor and two as the UN ambassador, had been intense.
"I am a believer in term limits. I think you have to be selfless enough to know when you step aside and allow someone else to do the job," she said
Mr Trump told reporters she was resigning to "take a little time off"
Both explanations didn't really satisfy anybody.
On the timing of the announcement, CNN's chief White House correspondent Jim Ascosta reported that Ms Haley was concerned about resigning after the mid-term elections, but also didn't want to step aside during Brett Kavanaugh's Supreme Court confirmation process.
More Details Later…